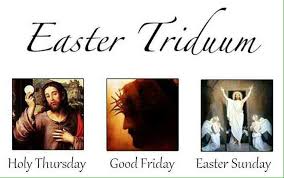 Holy Thursday: 
Mass of the Lord's Supper at 7.30 p.m.
Holy Hour at 9.30 p.m.
Good Friday: 
Commemoration of the Lord's Passion and Death at 3 p.m.
Prayer Service around the Cross at 9.30 p.m.
Holy Saturday: 
Easter Vigil at 9 p.m.
Easter Sunday:
Mass at 11 a.m.
Sadly due to current restrictions, attendance is not permitted. Each Mass and Service will be streamed live via the Parish Webcam on the link below.